Itching for more Miraculous Ladybug content, right after the release of Miraculous Ladybug Season 5 episode 3: Destruction?
Well, look no further…
Our new Miraculous Ladybug Cosplay Music Video is out!
It's a Miraculous Ladybug themed YouTube vlog contest between Marinette and Chloe! In this fun-filled production, we bring the energetic personalities of these beloved characters to life as they compete for the title of Paris' next top vlogger.
Adrien's father, Gabriel Agreste, is running a competition to find his fashion brand's next new YouTube star, to act in videos alongside Adrien Agreste himself! But it comes at a price – the winner has to make the best YouTube video.
Both Chloe and Marinette want to accept the prize of becoming Adrien's new YouTube co-star, and go to pretty wild lengths to protect their chances, each taking their mobile device with them all the way across the city!
But who will win Adrien's love – Marinette, or Chloe?!! And will there be other factors? Will their other friends from the Miraculous Ladybug series join in along the way and help them out?
In true Miraculous Ladybug fashion, there's a happy ending for both Marinette and Chloe, as along with Adrien, the Miraculous Ladybug trio learn the importance of teamwork and friendship.
But we can't give away all the details! For more information, you'll have to watch to find out. Click the link!
A brand new Miraculous Ladybug Cosplay Music Video…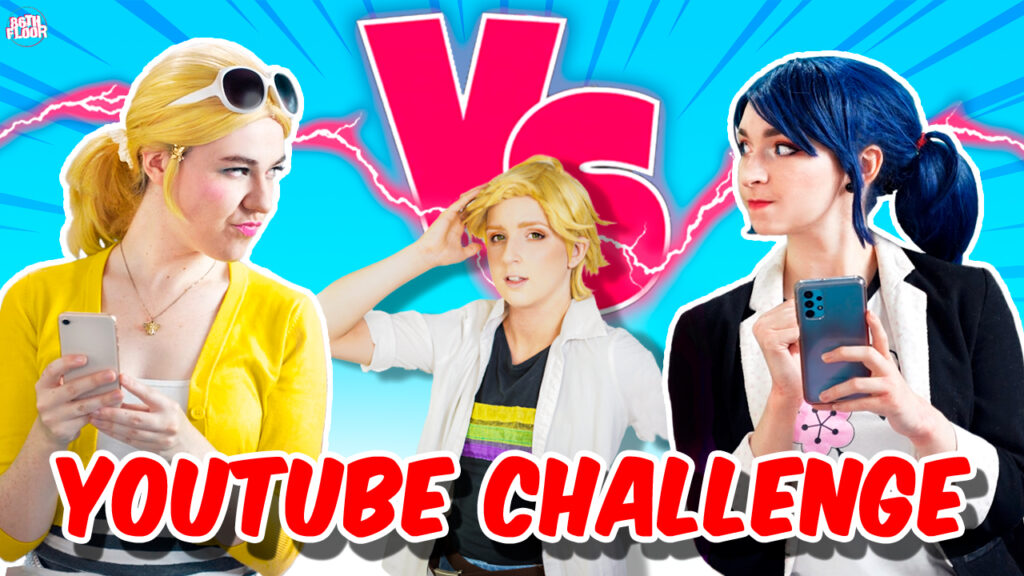 We hope all Miraculous Ladybug fans enjoy watching our Cosplay Music Video as much as we enjoyed making it! It has been too long since Hildaglitz, Rascalrabbit and Luminara were all together in Miraculous Ladybug cosplay filming a YouTube video.
This is actually our 11th Miraculous Ladybug Cosplay Music Video! Can you believe that? We started making these videos in 2016 and we cannot believe how fast the time has flown.
And this video is a brand new TYPE of our Miraculous Ladybug Cosplay Music Videos – we have combined the graphic-heavy elements of our Miraculous Zoom series with our live action environments of Favourite Daydream and Bowled Over!
There were lots of fun graphic elements to make. Every sign or text box you see were graphics or animation items made specifically for this video.
We even had to choose account names for all of the YouTube comments left by various Miraculous Ladybug characters, based on their personalities! Let us know which one you like the best – we really enjoyed the hint at Nino's DJ career, which we think eagle-eyed viewers will appreciate too.
We even got you guys involved! On our YouTube Community tabs, we asked you to send us what comment you would leave on Adrien Agreste's livestream. To sort through all the different options was such a difficult task, but we are so happy with the end result!
Check it out on 86th Floor Cosplay & Cons now!
We are so happy we finished our new Miraculous Ladybug Cosplay video for this Oct release, right before we take stock of what we need for MCM London Comic Con.
Check it out now on our YouTube channel: https://www.youtube.com/c/The86thFloorAnimeandGamesChannel
Don't forget to like and subscribe for more Miraculous Ladybug cosplay content, and hit the bell icon to be the first to know when we upload new videos!
And why not check out our Patreon? From just $2 a month, you can get early access to our content and exclusive access to our Discord! https://www.patreon.com/86thfloor
And let us know which Miraculous Ladybug character you would subscribe to on YouTube – Chloe, or Marinette?
Thank you Miraculous Ladybug fandom for supporting us! Until next time, stay miraculous!
Why not check out our other Miraculous Ladybug cosplay videos? From our skit series Miraculous Zoom, to finding tons of Miraculous Ladybug cosplayers in the wild at MCM London, Miraculous Cosplay is a huge part of our channel and we love filming it.
Join the Zoom Call with all your favourite Miraculous Ladybug Cosplay characters!
MCM London Cosplay steals the show In this awesome Cosplay Music Video!
About Post Author
Get social - follow us on these Networks!