DC Bombshells Cosplay Video – Lights the Fuse!
The DC Bombshells characters have been popular in the comics fan-space since their introduction in 2011.
Our DC Bombshells cosplay music video (above) celebrates the 1940s inspired designs.
Working with amazing cosplayers from the UK, we created a video that we hope is as fun as the original concept!
Read on to find out this project and the awesome cosplayers who took part.
Launched in 2011, the DC bombshells line reimagined DC superheroines as 1940s pin-ups. Glamorous and effortlessly stylish these designs caught the imagination of fandom, specifically, cosplayers!
The series launched a line of best-selling statues and a long-running comic book series. It has created a compelling, serious and feminist narrative for these amazing characters.
We'd filmed a lot of Bombshells cosplayers at conventions around the world, and by this point we'd completely fallen in love with the DC Bombshells aesthetic and universe.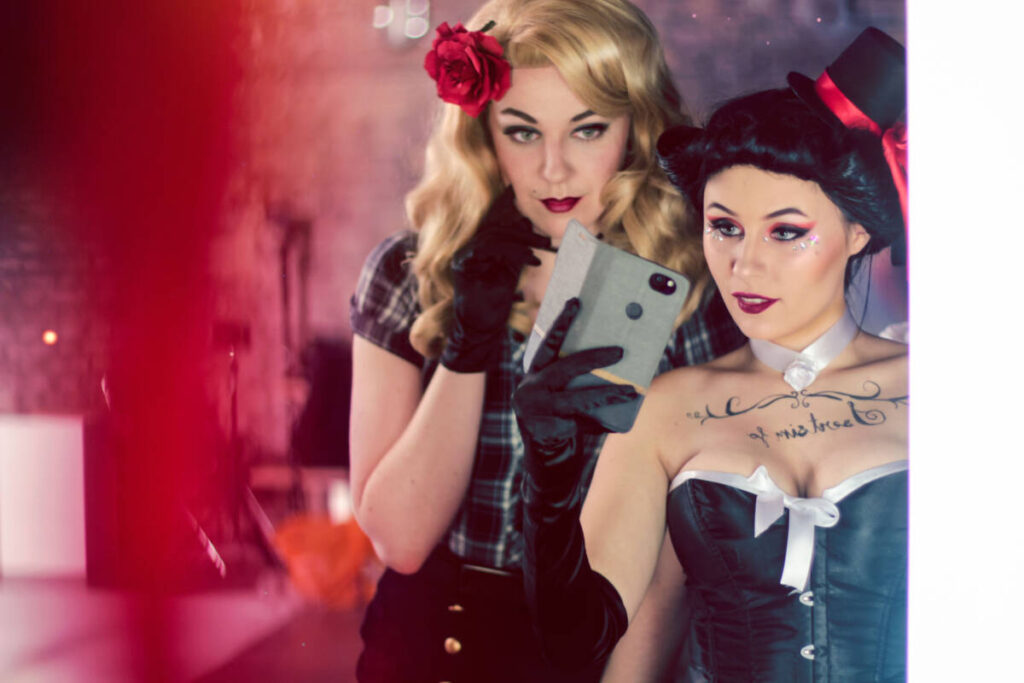 We wanted to make a music video that paid homage to what made DC Bombshells so fabulous. Our only problem was finding a music track.
Luckily Shibuya Sunrise saved the day for us! Mainlining boogie woogie beats and big band brass, the track "Bombshell!" was produced for the video. The song was inspired by a mixture of classic pin ups, Christina Aguilera and The Saturdays, and we couldn't wait to get started on the video. But first, we needed a cast!
We got in contact with cosplayers from the UK who we'd worked with at conventions before, to start putting together our very own DC Bombshell cosplay roster. This included our very own Miranda (Black Canary) and Emi (Lois Lane).
Read on to see the amazing cosplayers who stepped up to the plate and created such an amazingly fun day!
Filming took place in a studio in Hoxton in September 2018, with each cosplayer performing their takes in front of vintage inspired pastel backgrounds, and a whole host of props and set dressing to enhance the performance.
Each cosplayer performed the song three times, and there were fourteen cast members. If you do the maths, that makes for one hectic day! (And I assure you that no one could get that song out of their heads for weeks afterwards.)
The video edit took time due to the complexity of combining different performances and making sure each cast member had their moment to shine. We're super happy with the way it turned out!
To see more please watch the video above and make sure you follow all the amazing cosplayers.
The 86th Floor Cosplay and Cons is dedicated to making the best possible cosplay videos we can. Filming cosplay in unique locations, settings and environments we work to create exciting new videos. If you would like to be part of our videos or be the first to see them please consider supporting us on Patreon.
About Post Author
Get social - follow us on these Networks!