Spider-man cosplayers showed Camden how to party in our latest video starring the Mary-Janes!
In recent years, heading into the Spiderverse is a concept a lot of people are familiar with, thanks to Sony's "Into The Spiderverse" (2018).
Back in 2017, I had no idea that there was more to the Spider-man story than Peter Parker and his shenanigans, until Osh told me his idea for a music video featuring all Spiderman's ex-girlfriends in a gig, playing to an audience of Spider-people.
This idea sounded like so much fun that we couldn't not do it! Especially as every time we are filming at a convention we meet with endless seas of Spider-man cosplayers.
30 Spider-Men Walk Into A Bar….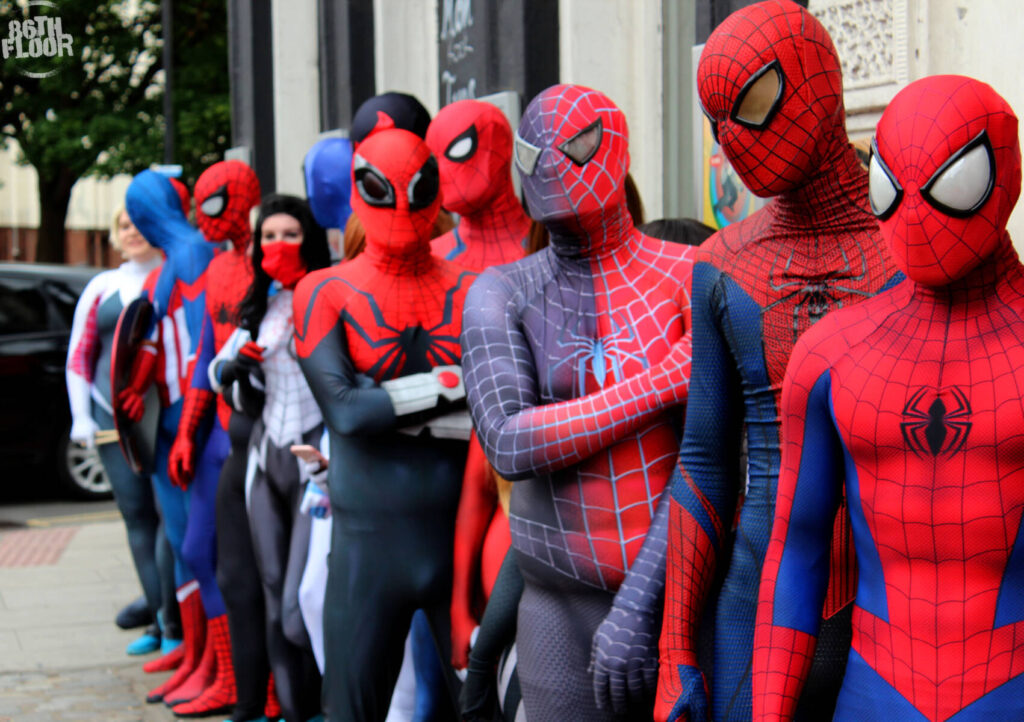 At MCM London Comic Con in May 2017, we approached the Spider-Verse cosplay meet with our cameras, but also a bag full of cards with the filming date for the video on them.
We wanted to invite as many of the Spiderverse Cosplay community as possible!
We told them to bring their best Spidey suits and web-shooters. Despite this being a completely wild idea, they all seemed up for it!
Once the Spider-men were interested, we had to put together the girl band who would be performing at this exclusive Spider gig. We got in contact with JinxyDragon, Kyashi and Kizuki Cosplay, all of whom are amazing cosplayers that we've worked with at conventions. They all agreed to come together to form The Mary Janes.
However, we still needed a drummer. Since there would be a real drum kit on set, we needed someone who knew what they were doing. Luckily, our very own Alice is a skilled drummer and stepped up to play the role of Gwen Stacy for the video. This was Alice's first appearance in an 86th Floor video, and her first cosplay too!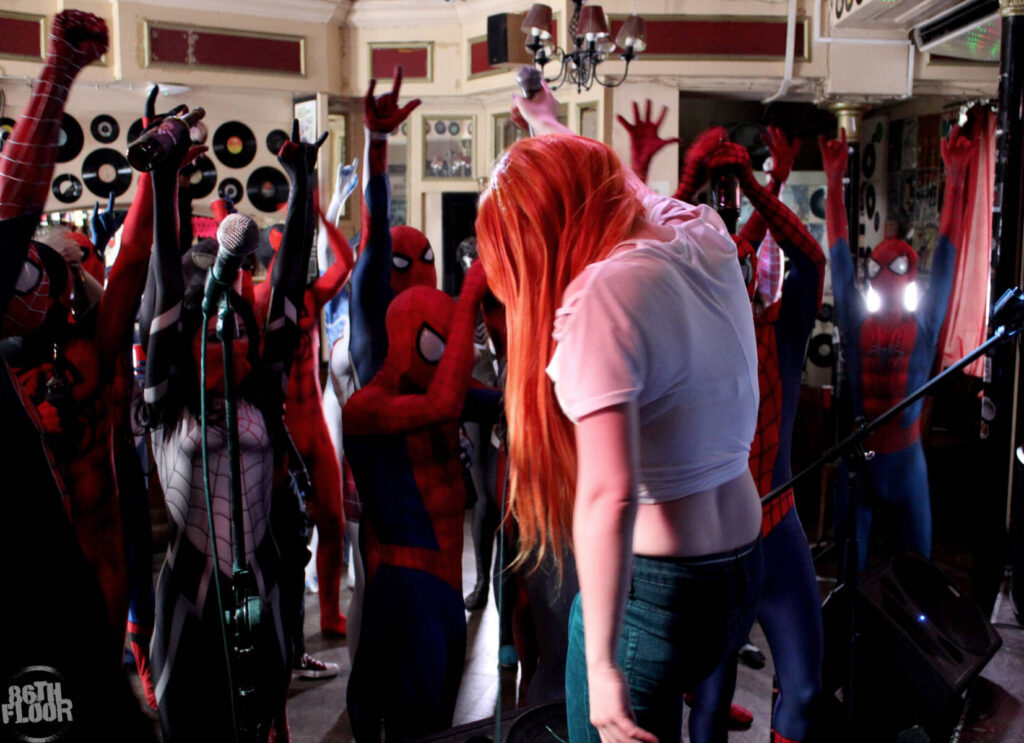 Now that we had our band, we needed a song. Shibuya Sunrise once again rose to the challenge and provided us with an absolute banger in "Jackpot (Face it Tiger)". (Referencing Mary Jane's iconic line from the original comics.) How many Spiderman comic references can you hear in the song? It's stuffed full of 'em!
And so the filming day arrived. We all stood there at 9am in the Fiddler's Elbow in Camden, concerned that maybe no one would turn up. But before we knew it, cosplayers began flooding in and suddenly the pub was full of Spidermen!!
The day flew by in a joyous blur. The cosplayers were absolutely amazing, and brought such incredible flair to all their performances! I will never forget standing at the back of the pub, watching 40 Spider-man cosplayers head-bang in unison.
One scene required all the Spider-people to line up outside the pub (as seen at the beginning of the video). We definitely caused a stir in Camden that day as traffic slowed down to stare at the superheroes waiting to get into the venue.
Eddie from Food & Cosplay joined us on set as photographer. He also had a cameo as the bouncer! Thank you, Eddie!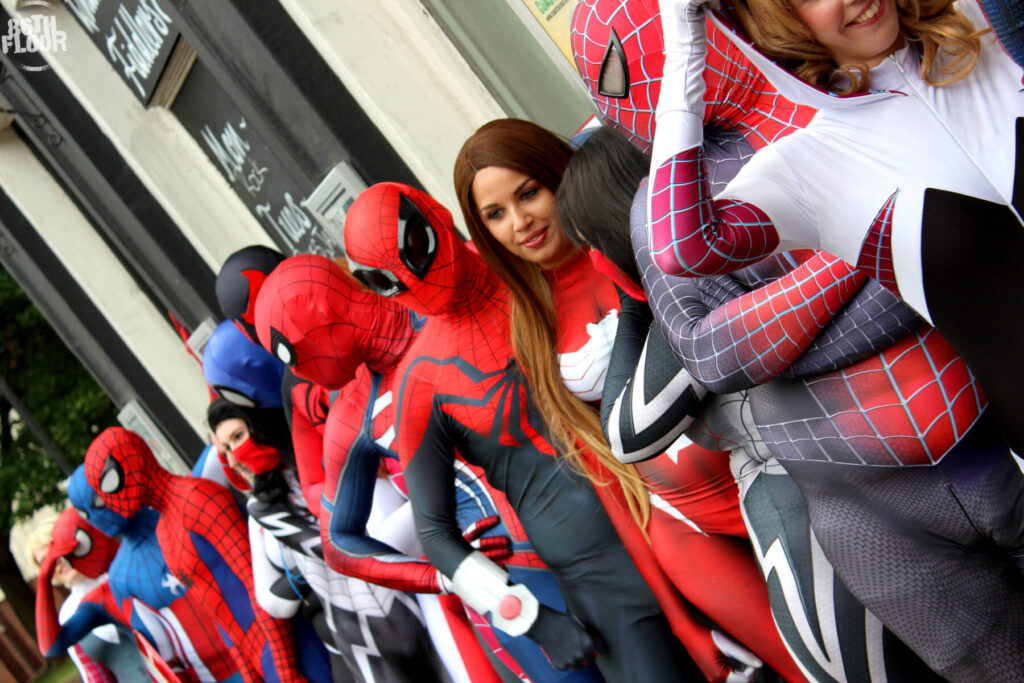 Check out these photos taken by Luminara Cosplay! Luminara is usually known for her role as Marinette in our Miraculous Ladybug CMVs, but on this occasion was helping out behind the camera. (Osh wanted her to make a cameo as the other bug-themed superhero in our lives, but that's a crossover for another day.)
The incredible cosplayers who took part in this video are listed below, make sure to check them out!
Spiderverse Jackpot is still one of my favourite videos we've ever created, and I can't wait to re-enter the Spiderverse with another Spider-man cosplay video very soon!
The 86th Floor Cosplay and Cons is dedicated to making the best possible cosplay videos we can. Filming cosplay in unique locations, settings and environments we work to create exciting new videos. If you would like to be part of our videos or be the first to see them please consider supporting us on Patreon.
Patreon tiers start at $2 and we promise it's worth it!
BEHIND THE SCENES PHOTOS FROM THE SHOOT!
About Post Author
Get social - follow us on these Networks!