Watch the BEST BITS compilation of our Cosplayers React to Miraculous Ladybug series RIGHT NOW! 💖
Miraculous Ladybug Cosplay Fans – Let's Go Back in Time!
The TEAM that is Hildaglitz, Luminara Cosplay and Rascal Rabbit Cosplay have been reacting to FIVE SEASONS of the hit animated series Miraculous Ladybug, in our YouTube webseries 'Cosplayers React to Miraculous Ladybug.'
And they had so many funny opinions along the way!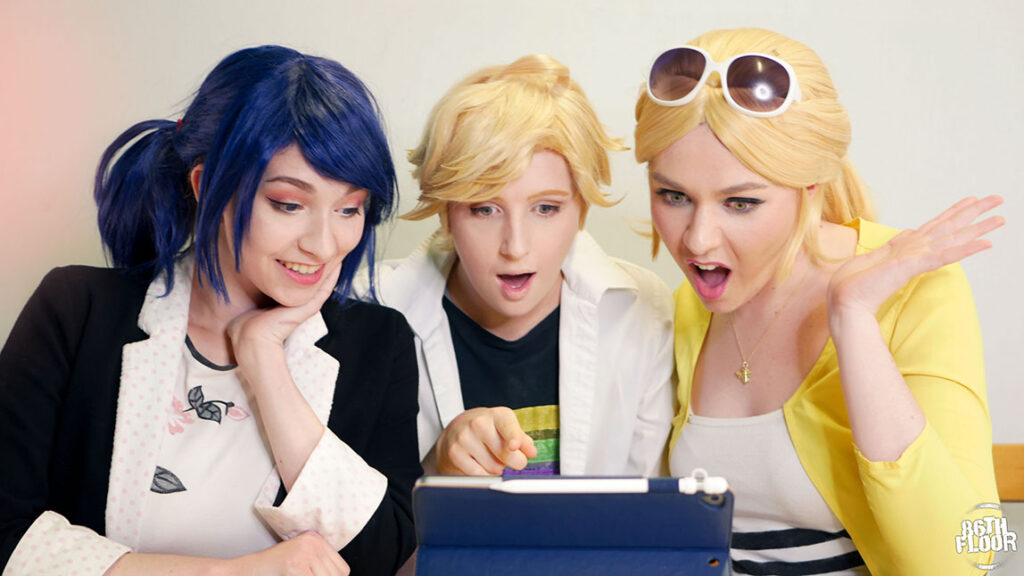 We thought it was time to look back at some of their funniest and wildest moments.
Get ready to relive the most hilarious reactions from episodes such as 'Cosplayers React to Miraculous Ladybug: The New York Special', 'Chat Blanc', 'Kwamibuster' and loads more!
The "Miraculous" Premise for a Cosplay Reaction series…
The premise of the series was to sit together, in Miraculous Ladybug costumes, and watch through episodes that they'd either never seen before, or had seen a long time ago – and to offer funny commentary and to raise theories or other points of conversation. A simple premise, but an incredibly fun and effective one!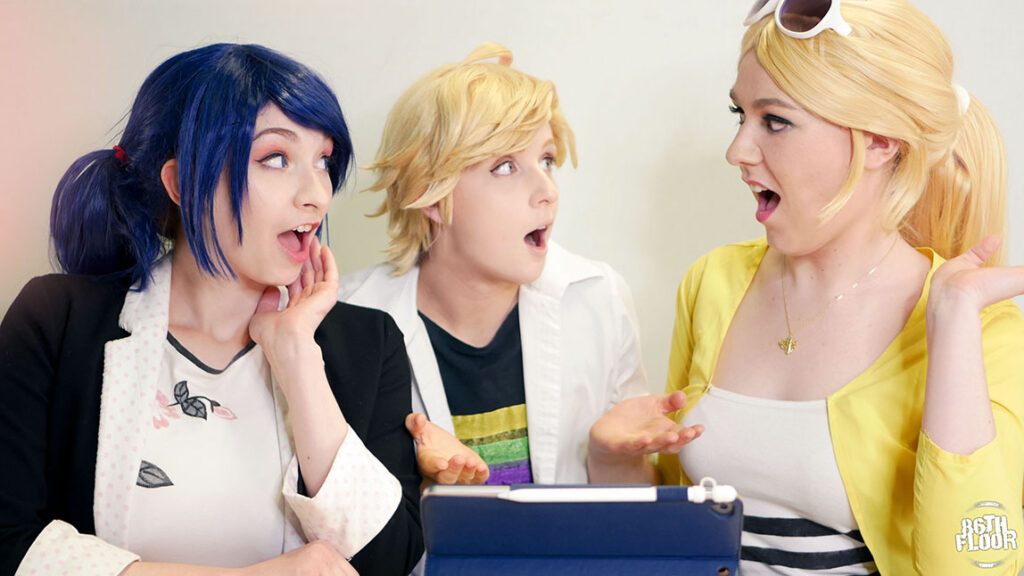 The series, throughout the years, has been known for witty banter, funny tangents and bizarre theories (which never turned out to be true – like how our hosts thought Sabrina was going to end up the next holder of the Peacock Miraculous!)
And of course, our hosts did all of it in cosplay! Hildaglitz as Chloe Bourgeois, Luminara Cosplay as Marinette Dupain-Cheng, and Rascal Rabbit as Adrien Agreste. Occasionally they would even switch it up with themed outfits, such as Hildaglitz's iconic Queen Banana get up in 'Queen Banana', or everyone's silly Halloween costumes in 'Zombiezou!'
And who could forget Rascal Rabbit's stint as the cardboard box Cat Noir in the reaction to 'Oblivio!'
Our Place in the Miraculous Ladybug Cosplay Reaction Community…
So many episodes of this series went viral on YouTube, and we are so so grateful for the support and to have become such a big part of the Miraculous Ladybug reaction community.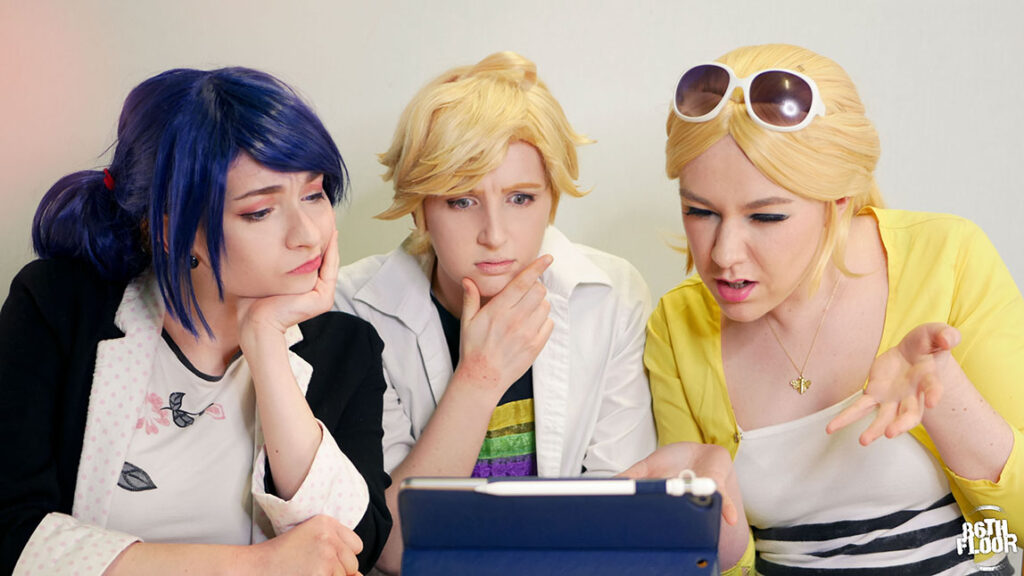 This compilation was so much fun to put together and we think we have captured the funniest moments of the series. But there were so many episodes to choose from – let us know if you would like to see a part two, or a specific compilation of their Miraculous-themed Sims 4 playthroughs or Roblox streams!
We may have ended production of this series, but we just wanted to take a minute and say how grateful we are for your continued support of the 86th Floor Cosplay Revolutions channel. We will continue to post throwback content from earlier episodes of Cosplayers React to Miraculous Ladybug, so stay tuned if you want to see more of the iconic Miraculous trio!
And check out the link below to watch our brand new BEST OF Cosplayers React to Miraculous Ladybug episode, on our YouTube Channel 86th Floor Cosplay Revolutions.
Stay Miraculous everyone!
More Miraculous Ladybug Cosplay Content!
https://www.youtube.com/@86thfloor2?sub_confirmation=1
Don't forget to like and subscribe for more retrospective Miraculous Ladybug cosplay content, and hit the bell icon to be the first to know when we upload new videos!
And why not check out our Patreon? From just $2 a month, you can get early access to our content and exclusive access to our Discord! https://www.patreon.com/86thfloor
Thank you Miraculous Ladybug fandom for supporting us! Until next time, stay miraculous!
Why not check out our other Miraculous Ladybug cosplay videos? From our skit series Miraculous Zoom, to finding tons of Miraculous Ladybug cosplayers in the wild at MCM London, Miraculous Cosplay is a huge part of our main channel, 86th Floor Cosplay and Cons. And we love filming it so much!
Join the Zoom Call with all your favourite Miraculous Ladybug Cosplay characters!
MCM London Cosplay steals the show In this awesome Cosplay Music Video!
About Post Author
Get social - follow us on these Networks!