Japan Weekend Madrid 2022 Cosplay Music Video!
Spain's biggest Anime convention is back at the IFEMA Madrid Convention Center. The Japan Weekend event saw tens of thousands of Otaku from all over Spain come together to celebrate their love for Japanese and fan culture.
The 86th Floor's video shows why discerning convention attendees and cosplay fans should definitely have Japan Weekend MAdrid on their radar!
We were back to film the cosplayers at the convention. And despite it being our first visit to the convetion in 2 years it still felt like coming home!

The video showcases some incredible cosplays that will leave you breathless. Highlights include stunning Arcane, Genshin Impact and My Hero Academia costumes. The video is live on YouTube now and demonstrates the incredible talent in the Spanish cosplay community!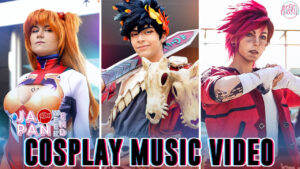 And thankfully once again despite it being a cold wintery weekend back in London, the incredible Spanish cosplayers and Madrid weather made it feel like summer!
As usual, we have to say a massive thank you to all of the cosplayers we filmed with. The sheer enthusiasm, love and passion you demonstrate make our work possible

Check out the full credits list here and please follow the individual cosplayers they were amazing!: https://docs.google.com/document/d/1bVJk4EwRvGbmqvd7CzTev_uvvGg7kC_6Hu8U5ijPxI4/edit
Want to know who everyone's cosplaying? Turn on subtitles!
If we filmed with you and you didn't spot yourself, don;t worry! Additional shots will be appearing on our Social Media Instagram, Facebook and TikTok very soon!
Production music courtesy of Epidemic Sound https://www.epidemicsound.com/
00:00 Japan Weekend 2022 – Cosplay Music Video Part 1 – "All Time Low"
02:55 Japan Weekend 2022 – Cosplay Music Video Part 2 – "Just Can't Change My Emotions"
05:39 Japan Weekend 2022 – Cosplay Music Video Part 3 – "Just Can't Change My Emotions" ♪
Stock footage of Madrid courtesy of Envato Elements
Want to see more of our videos? Make sure you subscribe with the bell on: https://www.youtube.com/channel/UCfBZ5Bgo2F2wRiy68XCWpow?sub_confirmation=1
And if you want to get early previews of our videos or film with us outside of conventions? Join our Patreon!
You'll get exclusive access to sign-ups for exclusive cosplay shoots, as well as early video previews, access to our Discord server, and MORE: https://www.patreon.com/86thfloor
Do You Love Cosplay and Conventions?
If so check out our other cosplay Music Videos from across the world. Click here to see the amazing cosplay of MCM London. Or click here to read about and see the video of Europe's prettiest convention Dokomi!

If you're looking for more Cosplay Conventions to attend in 2022, check out our article on the best 10 to attend here!
JAPAN WEEKEND MADRID COSPLAY GALLERY
About Post Author
Get social - follow us on these Networks!