Earlier this year, we took to the great outdoors and had a BLAST filming a live action Dream SMP cosplay music video!
This was such a dream (aha, no pun intended…) project of ours. We wanted to do justice to the epic story of the first few arcs of Dream SMP, so it's taken us months and months to edit.
But it's finished!
But the final video is live RIGHT NOW on our YouTube channel, 86th Floor Cosplay and Cons! (https://youtu.be/dNtnqI7WlmY)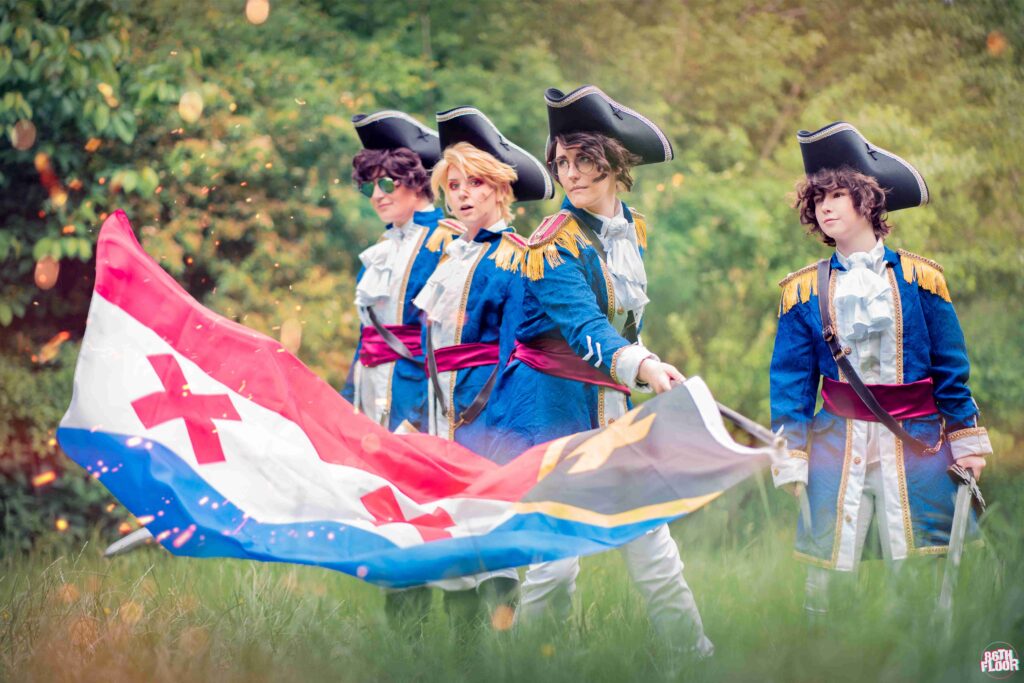 How to film a Dream SMP cosplay video… in one day?!
Despite having only one day to film the entire Dream SMP cosplay music video project, we couldn't be prouder of what we shot and have put together a pretty epic video! Without a doubt, one of our favourite videos we have ever created.
Whether we were setting up the elaborate scenery or capturing all of the intricate details in each scene, there was never a dull moment in this experience as we brought this incredible dream to life!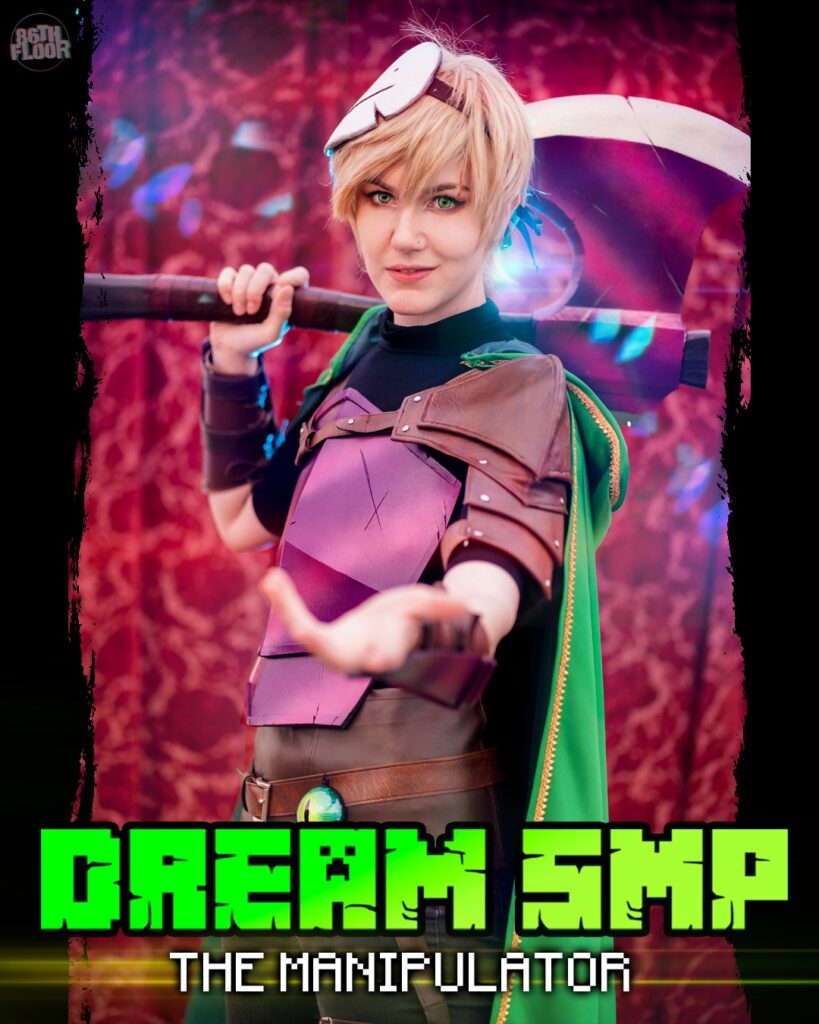 Our upcoming vlog…! 👀
If the MAKING OF this epic Dream SMP cosplay project appeals, keep an eye out on our second YouTube channel, 86th Floor Cosplay Revolutions – we will be releasing an exclusive behind the scenes vlog very soon!
We are so thrilled to add to the existing wealth of Dream SMP cosplay videos and fan content.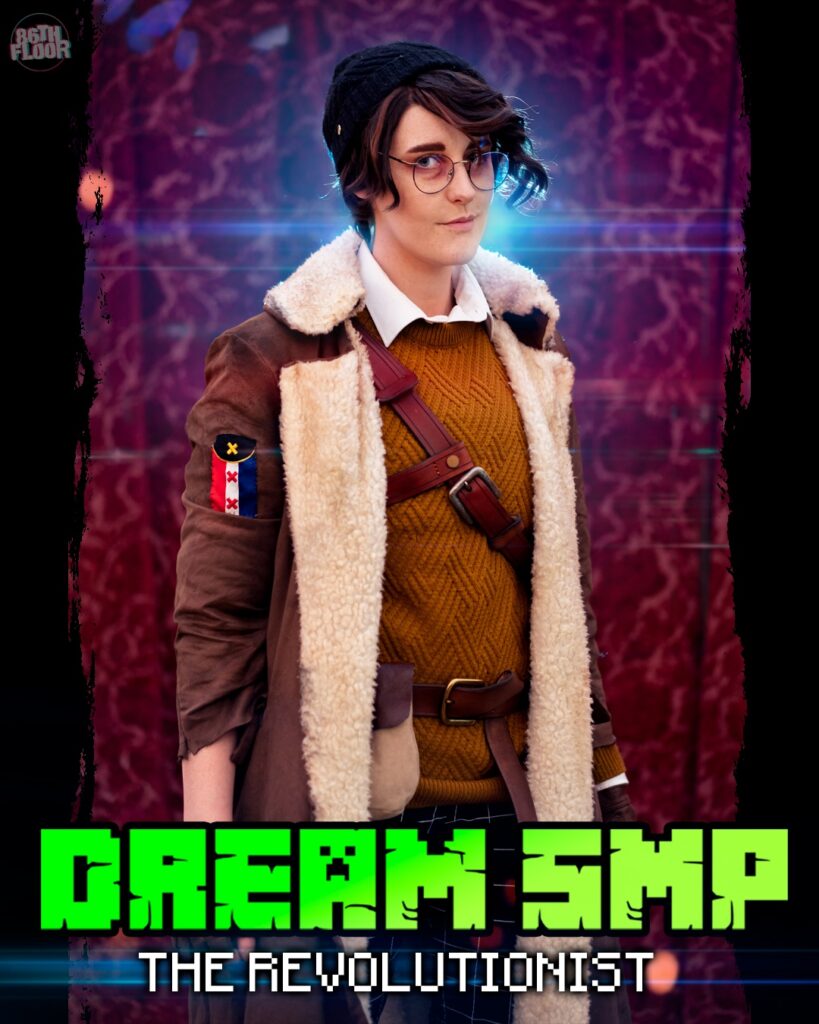 At first, we worried that filming an entire Dream SMP cosplay video in such a short space of time would be a challenge. We were going to need plenty of energy and stamina to get through the long day ahead, and with only pizza and cookies to sustain us, we knew it was going to be a tough task.
But our incredible cast added so much joy and energy to the filming day! We didn't have to search far to find an INCREDIBLY CANON set of Dream SMP cosplay enjoyers.
Check out our Dream SMP cosplay CAST!
You might already recognise some of the Dream SMP cosplayers from Tiktok or Instagram!
In order to make a Dream SMP cosplay video, we had hours and hours of information to account for – the establishment of L'Manburg, the battles, the formation of Pogtopia, Technoblade's rebellion…
We wanted to make sure we included all of the iconic details and recognisable things from the Dream SMP, like the L'Manburg flag waving, Techno's famous purple axe, and Eret's shades!
And while we took a bit of artistic license along the way (and to learn what parts we included or omitted, you'll have to watch the video on our YouTube account, 86th Floor Cosplay and Cons! https://youtu.be/dNtnqI7WlmY), we think we did the epic content of the Dream SMP justice!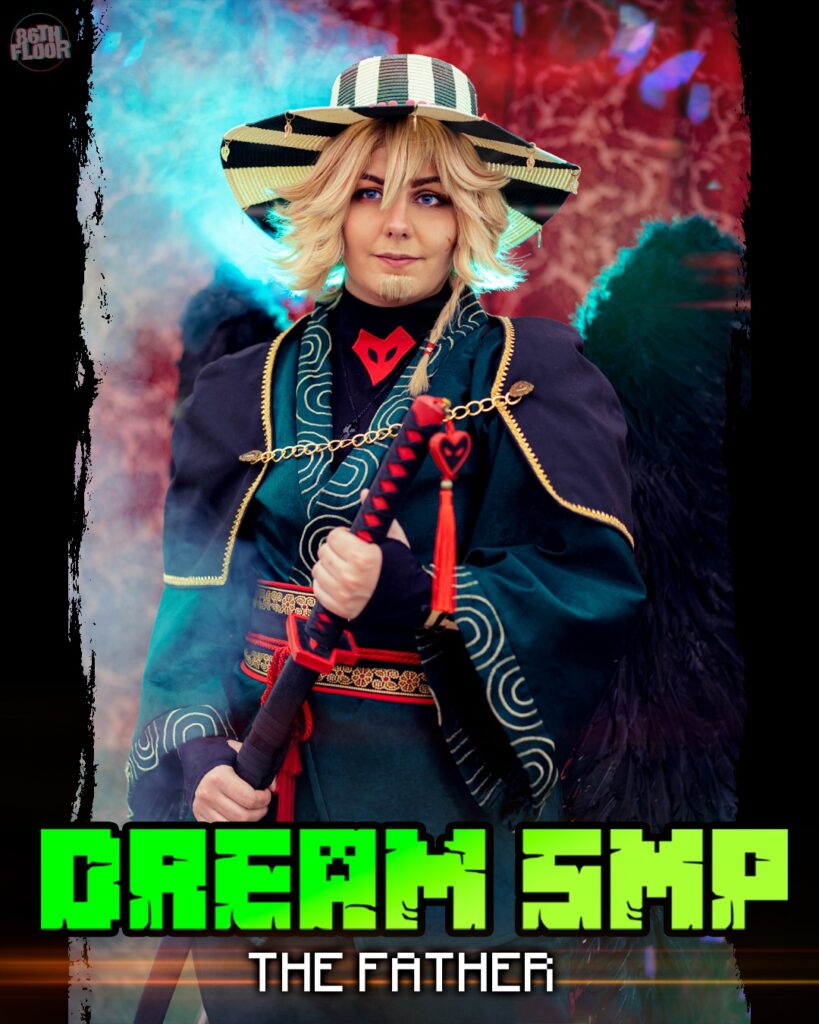 The Dream SMP storytelling…
A huge challenge to overcome was trying to tell a story without the use of dialogue. How can we convey the huge wealth of information in the Dream SMP story without speaking?
Well, we came up with a very fun and creative solution to sign post the plot beats – and you'll have to watch the full video on YouTube to find out what! https://youtu.be/dNtnqI7WlmY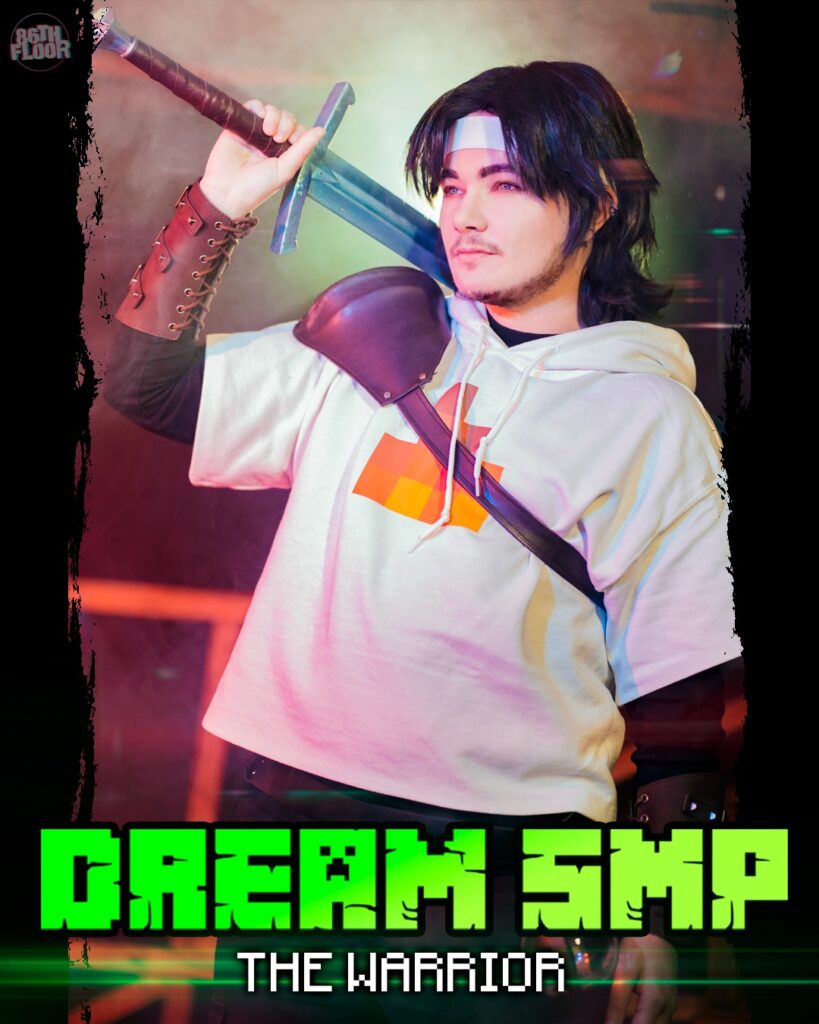 After filming, the editing process was a chance for our incredible designers Emi and Alice to create some awesome artwork and graphics, from the location markers to the hand-drawn chapter titles.
And Osh flexed his immense Adobe Aftereffects skills with some of the heftier editing challenges, like Technoblade's famous summoning of the withers in the final battle!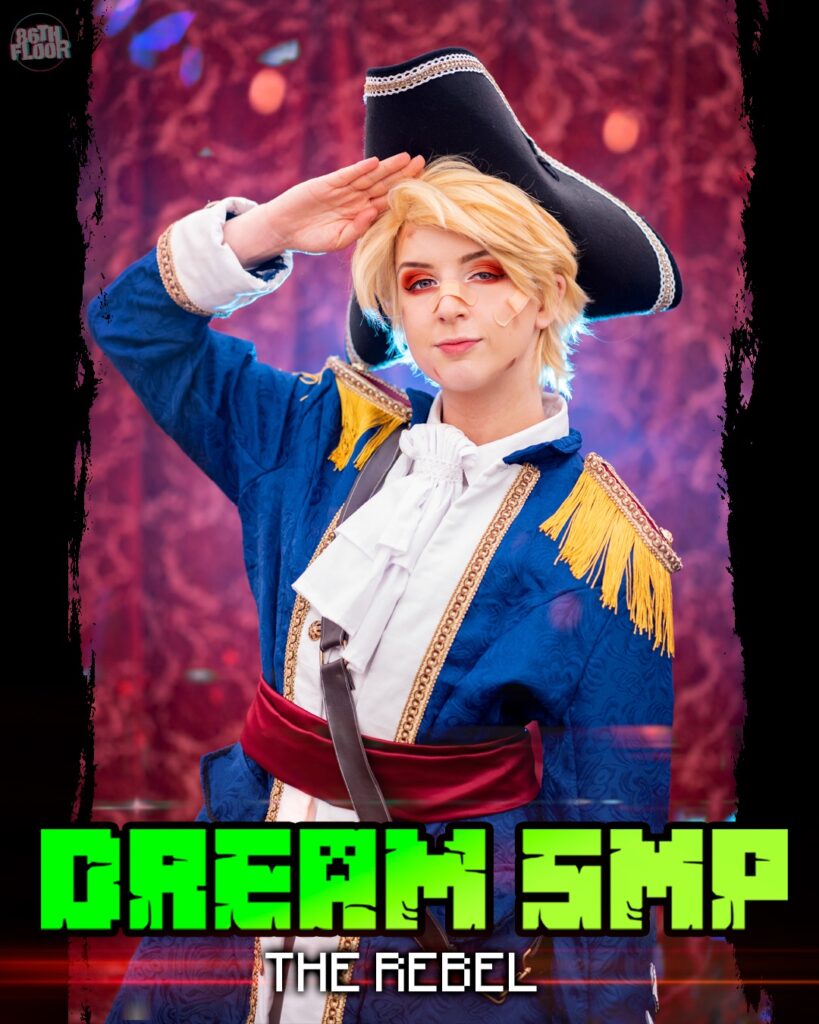 How much angst can one Dream SMP cosplay video hold…?
The L'Manburg and Pogtopia arcs of Dream SMP contain so many juicy and exciting things, like secret information, betrayal, war, throne-stealing and rebellion.
To do such fantastic storylines justice, we wanted to make sure we had a JUST AS fantastic cast who brought it all to life with their incredible acting.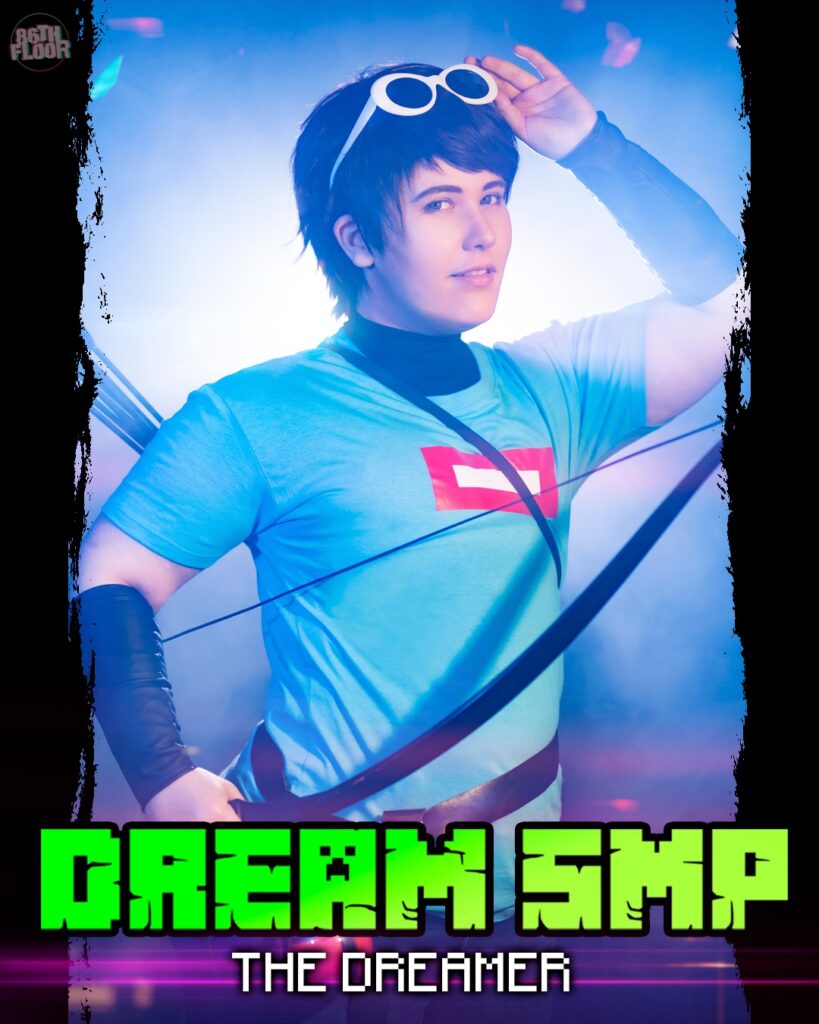 There is not a single weak performance; everyone acted their hearts out. Everyone bounced off of each other so well, and the inclusion of so many Dream SMP characters served to improve everyone's performances.
One of my favourite sequences has to be Jaeger_project and Katielavabug's EPIC tear-jerking scene at the end, in the midst of the destruction of L'Manburg! (No spoilers – but it's one of the most relevant and iconic scenes of the Dream SMP, and it was an honour to put it on film. If you're curious, the video is live on YouTube right now…! https://youtu.be/dNtnqI7WlmY)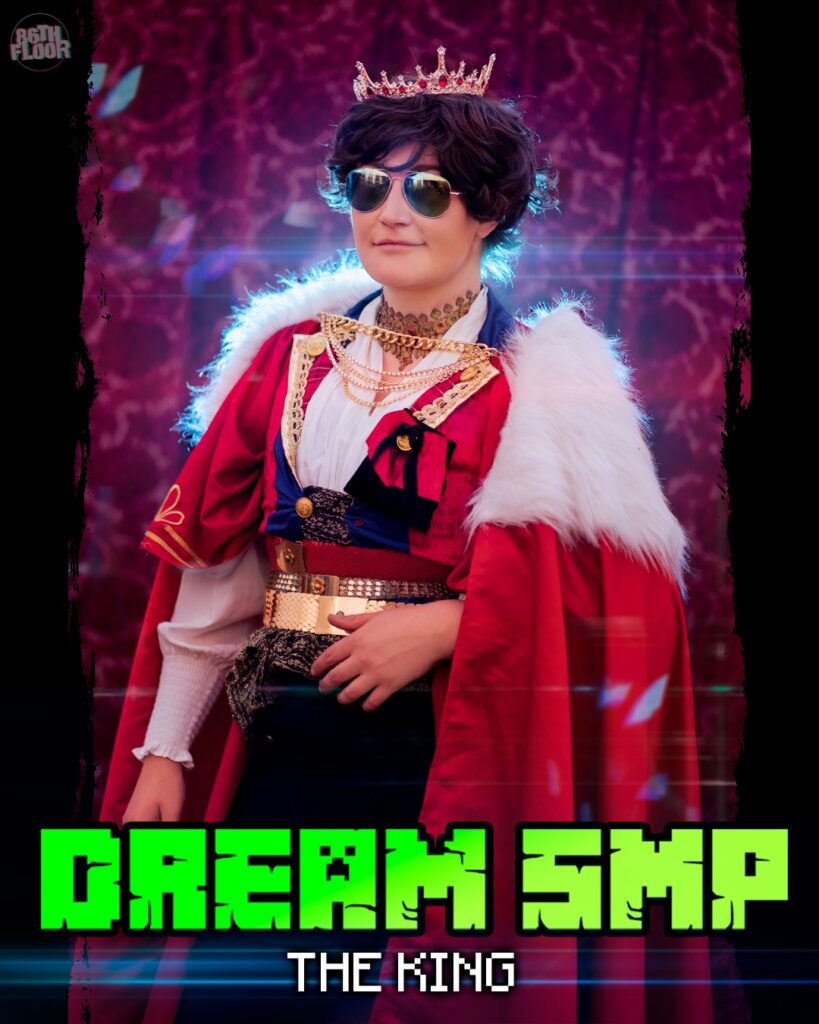 Behind the scenes of our Dream SMP cosplay music video…
Now to spam you with the technical side of things…
We used big standing lights for our scenes in the forest, as well as small miniature godox lights and a snoot attachment to create different lighting effects. We used a walled-off 'shed' for pitch black, in order to create even more dramatic lighting effects, creating the illusion of things like firepits, and glowing buttons.
Of course, we had our fair share of challenges along the way. Filming in a forest setting always comes with its own set of difficulties – from bugs and animals to tricky lighting. At least the tree cover protected us from rain!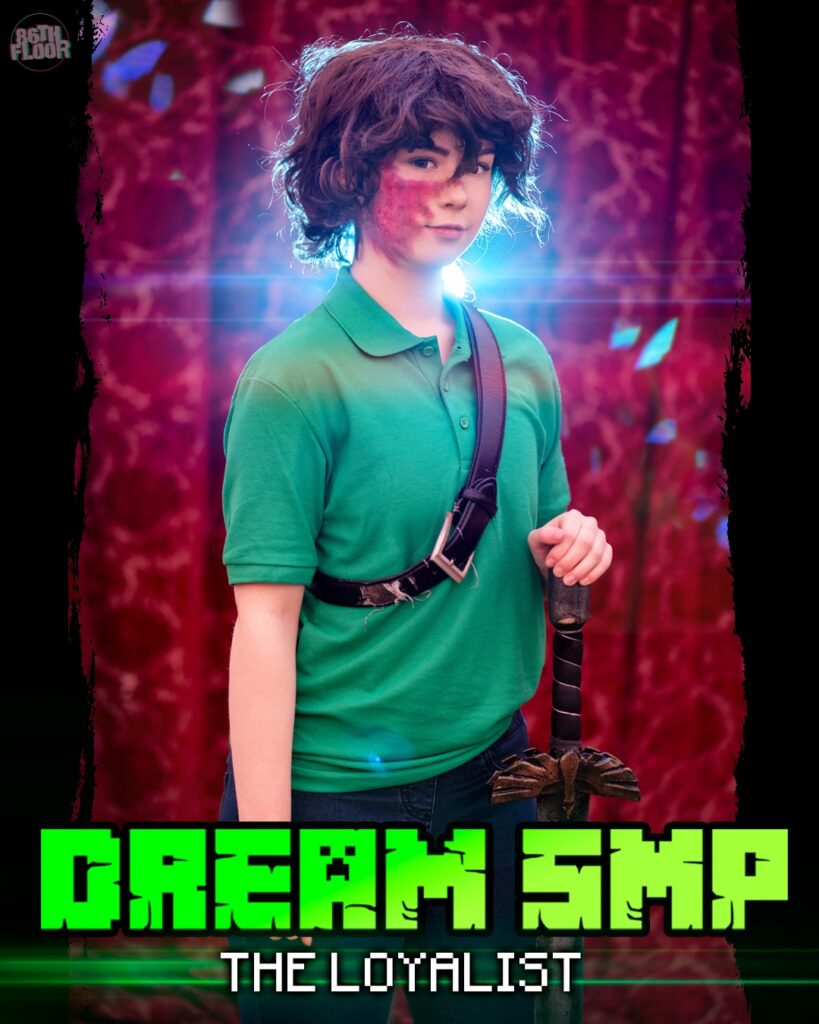 Go and check it out!
Overall, shooting this Dream SMP cosplay project was an amazing experience that we will never forget. Our live action MASTERPIECE is available to watch on YouTube right now, on our channel 86th Floor Cosplay and Cons!
And don't forget to check out our content on other socials. Check out exclusive Dream SMP cosplay photo edits on our instagram account!
https://www.instagram.com/86thfloorcosplay
And of course, our tiktok account will be buzzing with brand new Dream SMP cosplay content!
https://www.tiktok.com/@86thfloor
Make sure you're subscribed to us on YouTube, on our account 86th Floor Cosplay and Cons, for up to date information about all things cosplay and geek media. You'll be the first to get exclusive subscriber information when we upload brand new videos!
Or catch up on our latest videos on YouTube – come with us to Comic Cons all across the UK and experience all the incredible cosplay there through our event videos!
https://www.youtube.com/?sub_confirmation=1
And check out our second account, 86th Floor Cosplay Revolutions. If you enjoy Dream SMP, keep your eyes peeled – we will be releasing a brand new vlog focusing on the behind the scenes of making the Dream SMP cosplay video!
https://www.youtube.com/@86thfloor2?sub_confirmation=1
If you enjoy our cosplay stuff, why not check out a couple more relevant articles while you're here?
Watch our NEW Miraculous Ladybug and Cat Noir Cosplay Music Video: YouTube Challenge!
The 10 Best Cosplay Conventions You Need to Attend in 2022!
About Post Author
Get social - follow us on these Networks!