CosXpo 2023 Cosplay really hit different – last weekend was an absolute blast. And our Cosplay Music Video is out NOW!
A huge event for the cosplay community
CosXpo 2023 is UK event of utmost importance for the cosplay community – not only is it held at Reading Unviersity, which is an awesome space for cosplay photography, it also offers hands on workshops, and the Europe Cosplay Gathering qualifiers, where each individual or team competed for the chance to stand on the ECG Finals stage!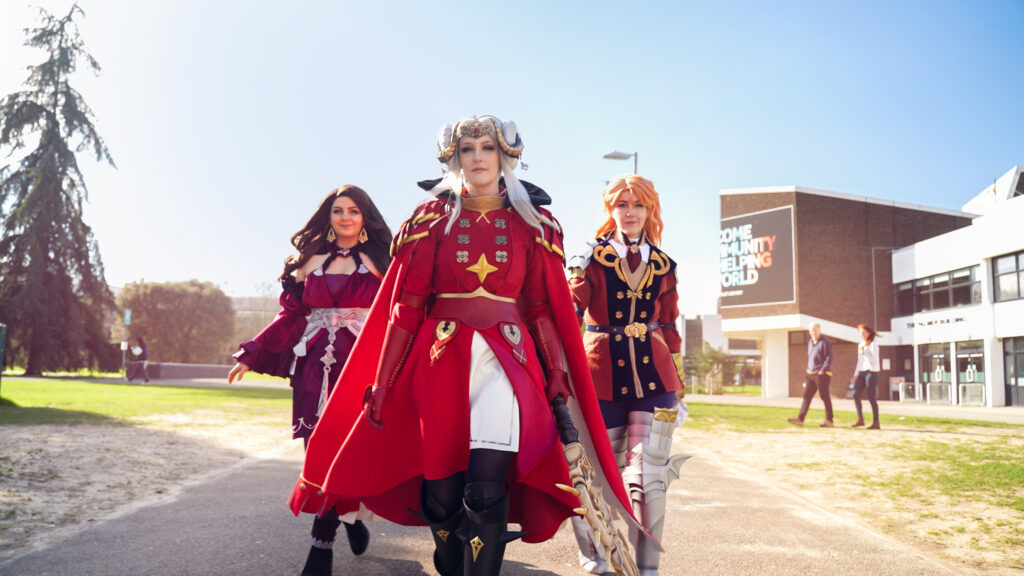 While traditional comic cons and anime conventions hone in on comics or anime and manga, a weekend at CosXpo is different – CosXpo 2023 was truly a convention themed around cosplay itself. Among the incredible artwork available to buy, you could also buy patterns, fabric, foam and power tools – we'd never seen anything like that at a regular comic con before!
The addition of such cool workshops entered CosXpo into our top ten UK cons to visit – it's one of the best places in the world to learn cosplay skills from huge names in the industry.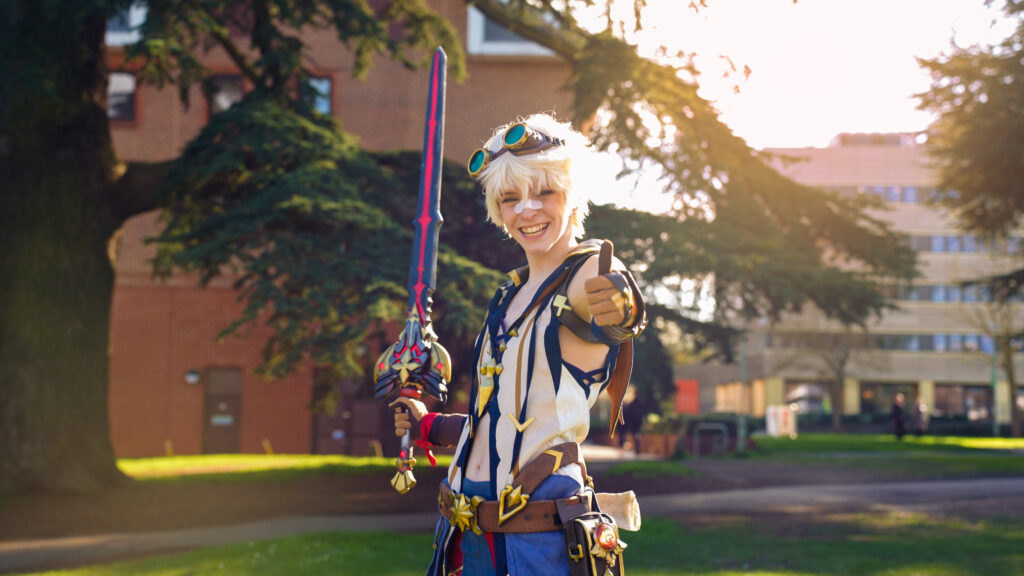 There were workshops on all cosplayer skills imaginable – wig styling, performance, photography, art, and social media management, like how to run a cosplay Facebook page or post on a business instagram account. And all ticket types could attend, not just VIP tickets! Everyone was so excited to hone their skills at CosXpo and it was awesome to see.
CosXpo 2023 Cosplay photography!
And there are even more benefits to cosplayers and photographers – the shooting locations! CosXpo, held at Reading University, offers cherry blossoms, caves, rock formations, fields, and a whole historical manor for photography and videography! It is such a treat for cosplayers and photographers alike – with everyone showing off their skills in the Spring weather.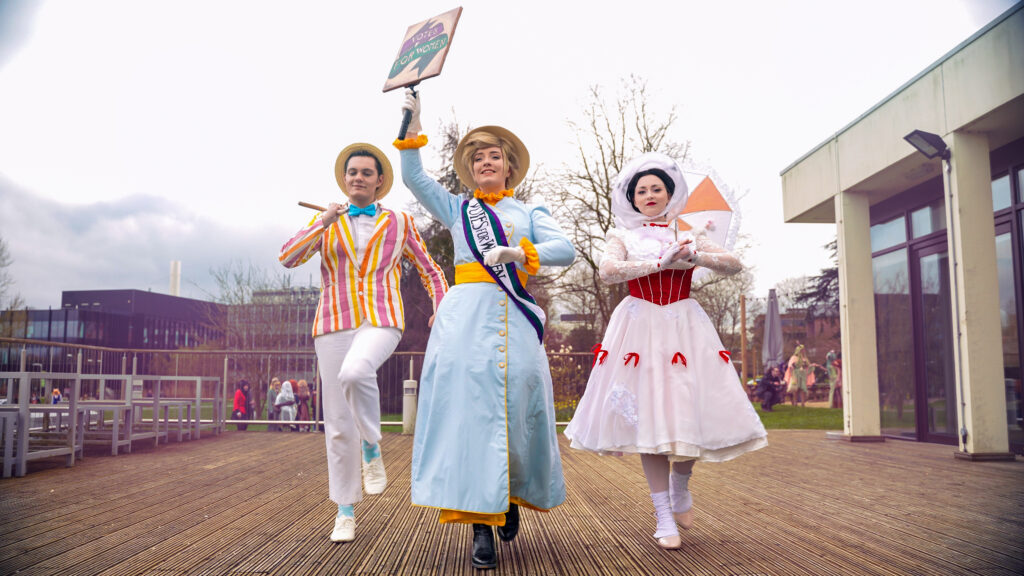 And while this year the weather wasn't quite as glorious as every previous CosXpo, and only a limited number of the cherry blossom trees were blooming this year, cosplayers and photographers were still on the watch for pretty places to get amazing cosplay content.
VIP tickets for CosXpo 2023 also mean cosplayers get event priority entry and can stay for the afterparty at Reading University – though we were more focused on the amazing photography and videography opportunities happening outside!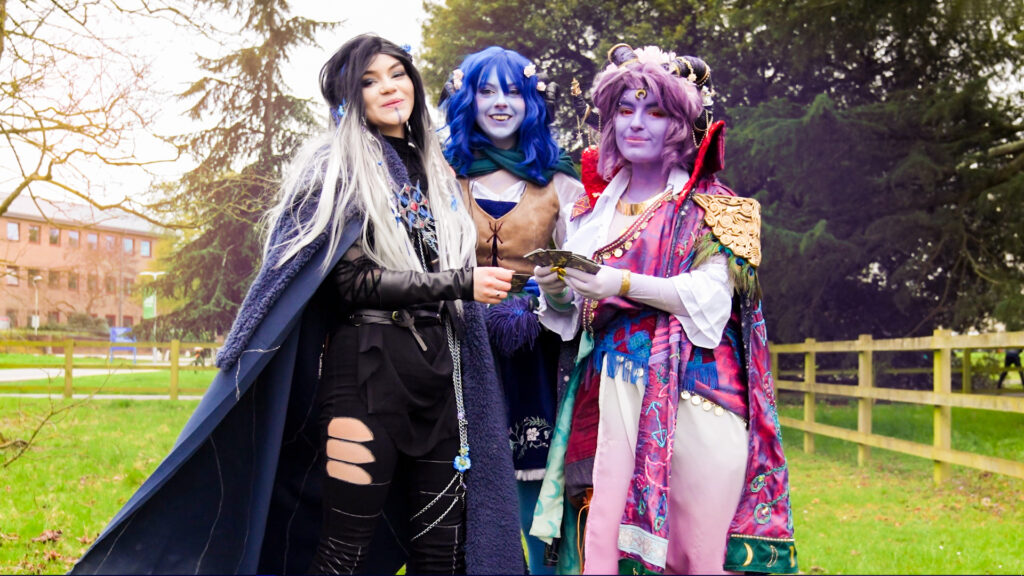 At CosXpo we got to witness some truly incredible cosplays, from detailed character re-creations to some original pieces designed by event attendees. It was inspiring to see so many people expressing their creativity with their costumes and being so passionate about them.
All in all, Cosxpo 2023 was a great time and it was amazing to be able to meet so many other cosplayers who share the same passion. Whether you're a fan of the craft, hoping to start up a cosplay Facebook page, want to play games at the afterparty or looking for fun crafting workshops, CosXpo definitely had something for everyone! We can't wait until next year!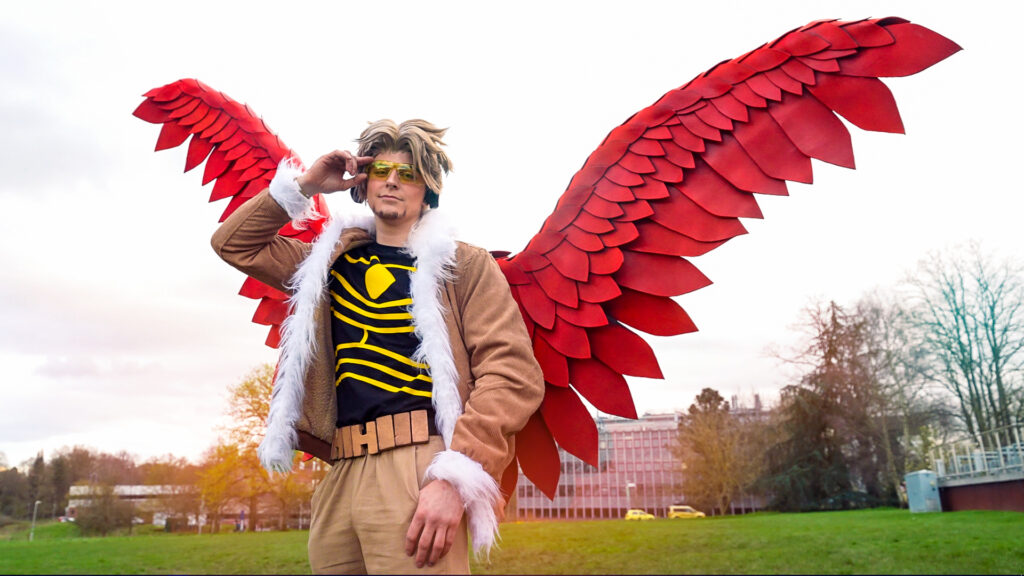 Our CosXpo 2023 Cosplay Music Video of the event is available to see NOW on our YouTube account 86th Floor Cosplay and Cons.
Let us know if we shot you at CosXpo 2023 and if we will see you at a future CosXpo event!
And be sure to check out our other posts:
What cosplay content should I explore next…?
Why not check out the best comic cons to attend in 2023? Or some of our other cosplay work?
2022 Cosplay REWIND – The BEST Shots of Cosplay we got at Comic Conventions in 2022!
Watch our NEW Miraculous Ladybug and Cat Noir Cosplay Music Video: YouTube Challenge!
Dream SMP – in REAL LIFE?! Watch our BRAND NEW Dream SMP Cosplay Music Video!
And if you want to look like our amazing Patreons in their Showcase Shoot pics, sign up to our Patreon here!
https://www.patreon.com/86thfloor
About Post Author
Get social - follow us on these Networks!