It's here! Our BRAND NEW Cosplay Music Video for Megacon Live 2023 Birmingham is live!
It has been uploaded to YouTube, and you can watch it right now on our main channel 86th Floor Cosplay and Cons!
What was it like at Megacon Live 2023…?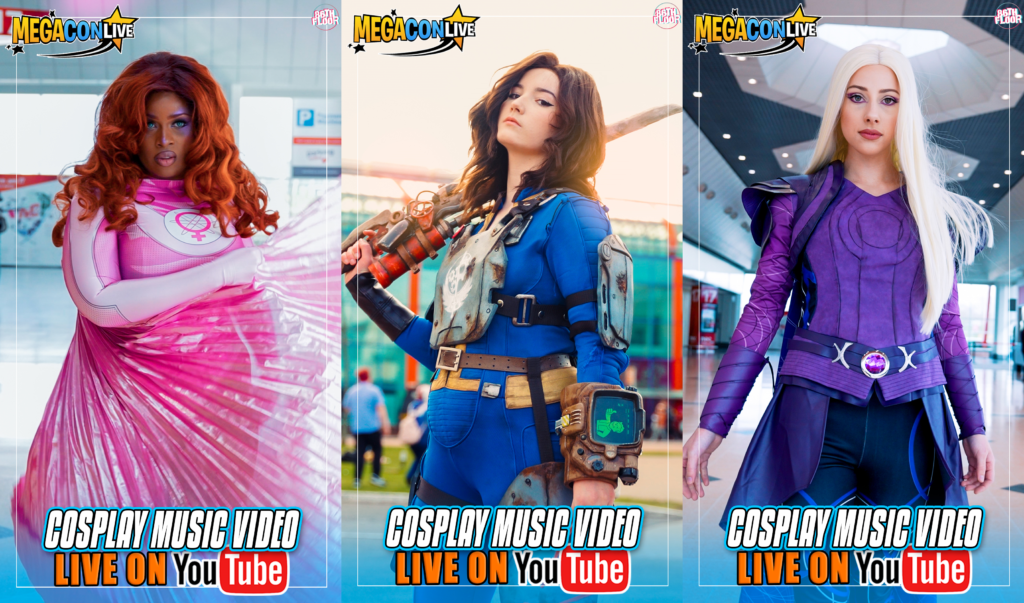 We just got back from Megacon Live 2023, held once a year in March at the NEC Birmingham. It draws in thousands of visitors who love all things movies, manga and popular culture.
We are absolutely exhausted after a weekend of running around with our cameras, filming hundreds of brilliant cosplayers! But we wouldn't have it any other way – we love doing what we do at comic cons, and are so excited to have kickstarted a year of amazing 2023 cosplay adventures!
Tons of entertainment companies and exhibitors set up at the NEC, Birmingham, to entertain visitors. There were also a huge number of famous guests and merch dealers.
Since Megacon Live started up last year we never want to miss it, and we are so excited to see it develop into one of the UK's biggest anime conventions!
The 86th Floor got to film so many amazing cosplayers, dressed up from all things popular culture, anime and manga, even movies and TV shows. The Megacon Live 2023 cosplay was totally beyond measure, thank you so much to everyone we got to shoot with this year!
Unforgettable cosplay at Megacon Live 2023…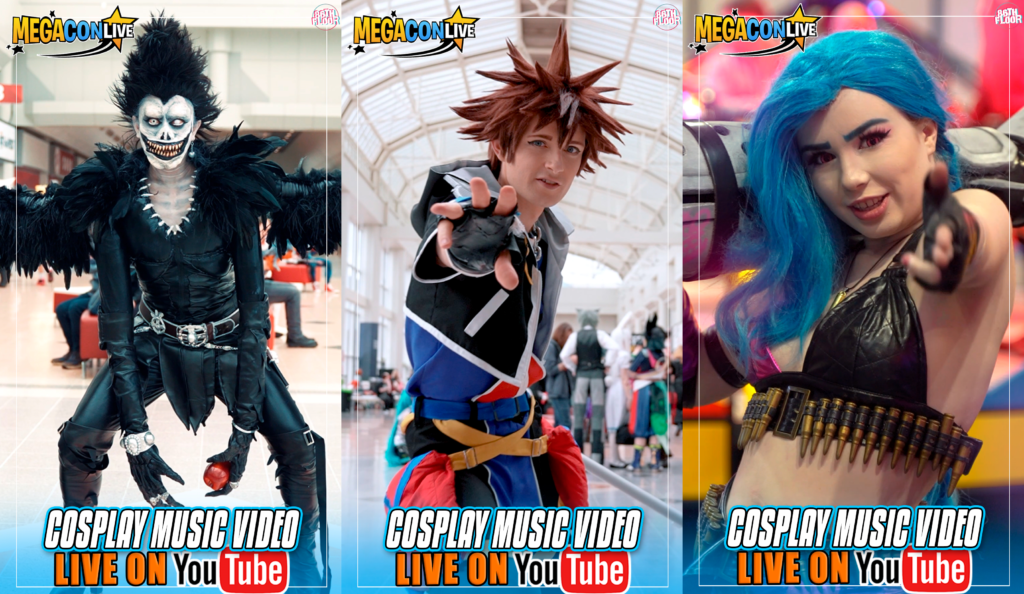 A massive highlight for us was the thumbnail's Wednesday group, featuring Uncle Fester, Morticia and Wednesday Addams herself from the hit new Tim Burton Netflix series. How amazing do these cosplayers look?! And how impressive to have got their incredible costumes all ready for March, when the series only hit Netflix on Halloween!
The sun even made a brief appearance on Saturday! So we were able to have an adventure outside in the lovely green fields and gazebo of the event space, and film lots of cosplayers in the sunshine. The big indoor halls of the NEC Birmingham are always fantastic to shoot in, but it was great fun having more options for backgrounds by shooting outside, and the choice to use pretty lens flares from the sun to add to the effectiveness of the shots!
But even when we shot footage inside, we didn't just accept one location – the neighbouring convention TokFest had an incredible funfair, and their waltzers had amazing spinning and flashing lights. These made for some really fun lighting effects – one of my personal favourite shots of the weekend was a FNAF (Five Nights at Freddy's) Security Breach cosplayer, lit up by the lights from a neon sign. They also made for some beautiful bokeh in the background of other shots!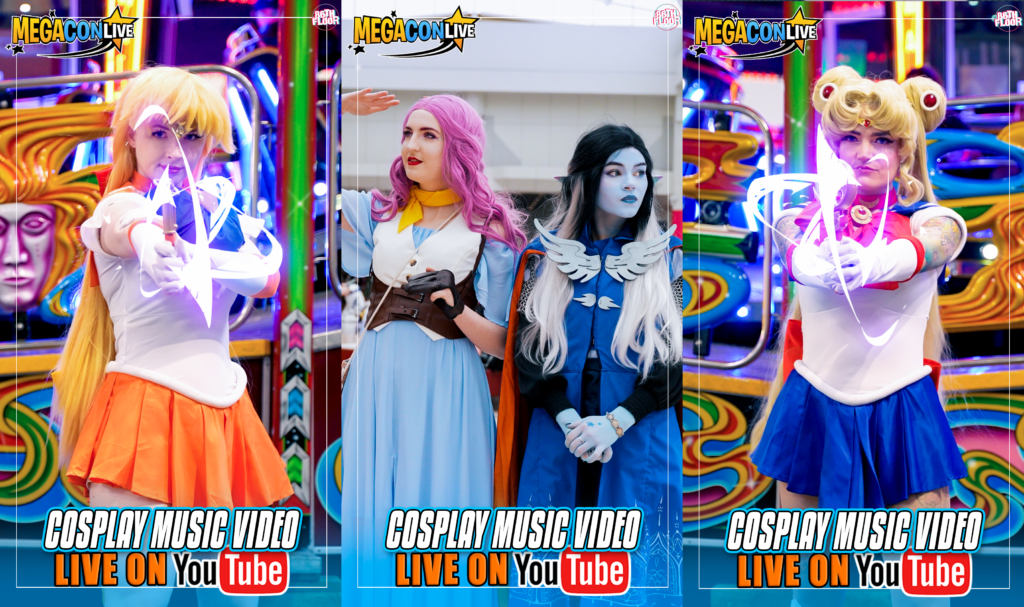 We did the majority of our Megacon Live filming however in the main halls of the NEC, and we shot such an amazing variety of characters from all areas of popular culture – including Genshin Impact, Stranger Things, Miraculous Ladybug, Marvel Cinematic Universe, My Hero Academia, Critical Role, Disney, Puss In Boots: The Last Wish, The Owl House and more!
Will you make it to Megacon Live next year?
If you had to miss it this year, this is your sign to buy your tickets for YOUR Megacon adventure. Will you choose Megacon Manchester, or Megacon Birmingham next year? Visit the website for all the details. https://megaconlive.com/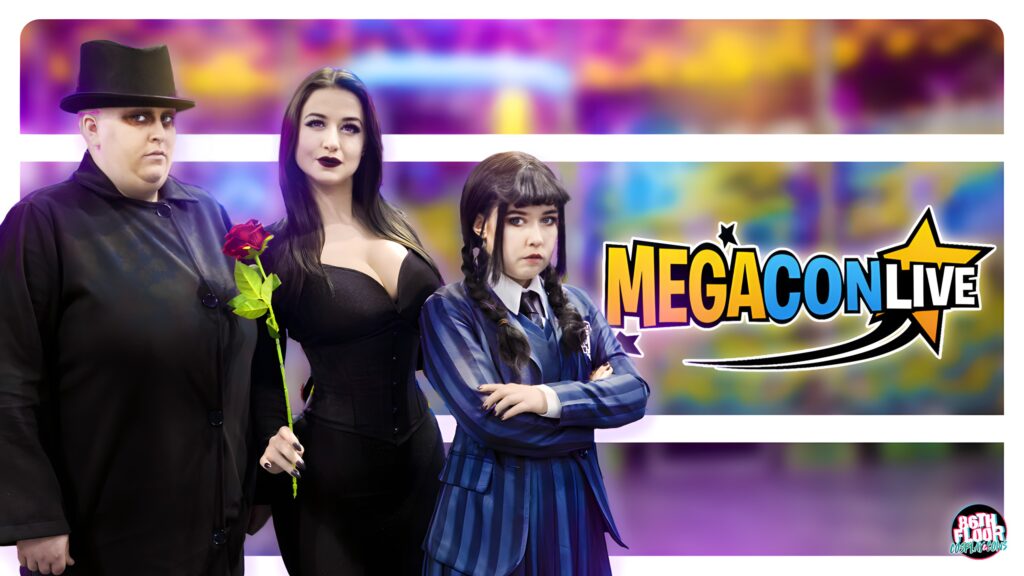 What cosplay content should I explore next…?
Why not check out the best comic cons to attend in 2023? Or some of our other cosplay work?
2022 Cosplay REWIND – The BEST Shots of Cosplay we got at Comic Conventions in 2022!
Watch our NEW Miraculous Ladybug and Cat Noir Cosplay Music Video: YouTube Challenge!
Dream SMP – in REAL LIFE?! Watch our BRAND NEW Dream SMP Cosplay Music Video!
And if you want to look like our amazing Patreons in their Showcase Shoot pics, sign up to our Patreon here!
https://www.patreon.com/86thfloor
About Post Author
Get social - follow us on these Networks!